1 DOF Educational Fish-like Robot "Gyotaro-IIIa"
(2009-2013) A conventional educational robot for primary school and junior high school students is a commercialized kit that uses a pre-defined motion by linkage mechanisms or a two-wheeled mobile robot using a differential driving mechanism.The reason is the cost limitation of using one or two actuators. The basic principle of locomotion of these robots is easy to understand, and there is not so much room to improve the robot. Moreover, an educational kit for high school students is very few, although high school age is critical for making a future career choice.
The educational robot "Gyotaro-IIIa" is designed to explain the basic principle of undulatory locomotion of a fish and a snake. Only one servo actuator drives the robot and controls the steering direction by making continuous right-and-left bending motions of head/tail arms. A fish has a long and thin body whose resistant force in water is small in the tangential direction and is large in the normal direction. A snake has the same property generated by scales under its trunk. The basic principle of this animal undulatory locomotion is the same as ice skating or roller skating, and it isn't very easy to understand intuitively. Thus this locomotion principle can stimulate students' curiosity.
Gyotaro-IIIa has four passive casters under the head link, tail link, and main body. These casters add the above-mentioned frictional property to the robot. Since the steering direction of the passive wheel is passively maintained by a rubber band, undulatory movements of head/tail motion change the tangential direction of the passive wheel. This inclined tangential direction can convert applied force to the propulsive force in the forward direction. Thus, Gyotaro-IIIa can smoothly move on the ground, just like swimming (Fig.2). Moreover, changing the arm length and/or strength of the rubber can adjust the characteristics of the propulsion.
For primary school students, maneuvering experience would be suitable for introducing science and engineering (Fig.3). For junior high school students, assembling the robot and lecturing the principle of servo motor would be interesting. As for high school students, we can bridge from classroom lectures of mathematics and physics to the actual design problem of linkage system used for Gyotaro. Assembling manuals (Fig.4) and lecturing materials have also been prepared.
| | |
| --- | --- |
| Fig.1 Overview of Gyotaro-IIIa | Fig.2 Locomotion principle |
| Fig.3 Maneuvering experience for children | Fig.4 Assembling Manual |
References
Gen Endo, Hiroya Yamada, Takeshi Aoki, Shigeo Hirose: Development of Biologically Inspired Educational Robots Based on Gliding Locomotion, Proc. Int. Conf. on Intelligent Robots and Systems, pp.3291-3296 (2013) [PDF]
Snake-like Educational Robot with an Arbitrary Number of Units "ACM-E1"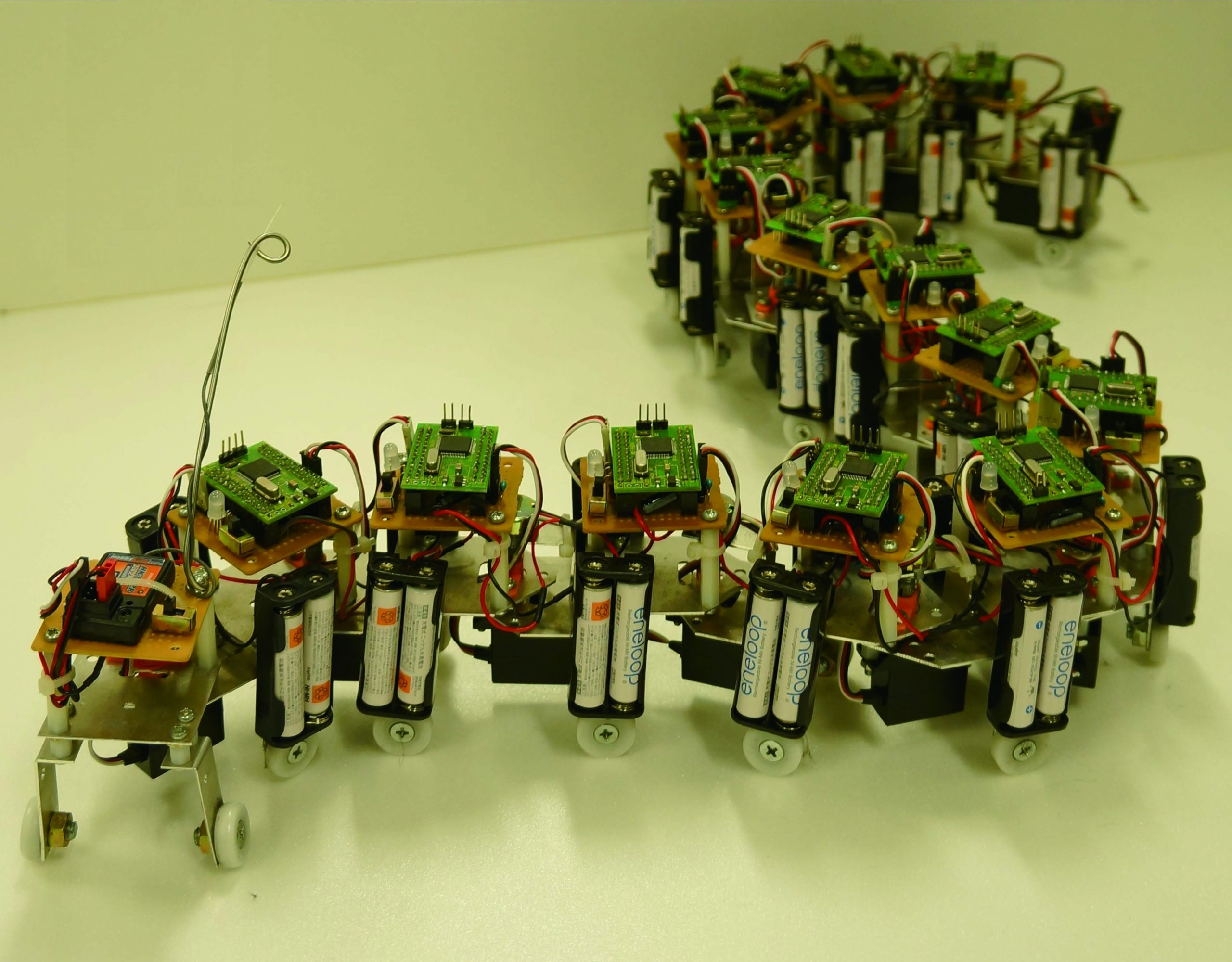 References
Gen Endo, Hiroya Yamada, Takeshi Aoki, Shigeo Hirose: Development of Biologically Inspired Educational Robots Based on Gliding Locomotion, Proc. Int. Conf. on Intelligent Robots and Systems, pp.3291-3296 (2013) [PDF]